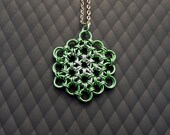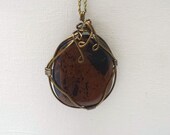 Artisan Name: Laura Sultan
Products: Wire Crochet (Cuffs, Necklaces, Bird's Nest Pendants, Upcycled Pendants, Earrings, Cuff Links), Chainmaille (Handpieces , Bracelets, Pendants, Earrings) and Sacred Energies (Flower of Life Meditative/ Anti-stress Pendants, Seed of Life Earrings, Gemstone Pendants playing with large gemstones color and texture)
Price range: $20-$150
About: Creating jewellery allows me to give simple beauty to individuals. I discovered this path while teaching at an at-risk school where my daily observations were often saddening. When I moved to Toronto a year and a half ago, I developed a passion for the artform and I began to focus on enhancing my designs.
As my company's name indicates, each piece is inspired by nature through colour, design, or symbology. The textures found in my wire crochet series originate from the multifaceted and seemingly delicate structures found in bird's nests and spider webs. The cuffs in this series use landscapes that weave the pieces' complex palette. As such, each piece has its own name representing its imagery.My chainmaille is reminiscent of movement and intricate structure found within plants and water. Colour also plays an integral role in this series by relating the designs to incorporated natural gemstones. My sacred energy series allows the individual to resonate with nature on spiritual and/or symbolic levels. Each piece reflects a symbol prevalent in the natural world or represents the healing energies found within that world. Together these three lines illustrate three varied aspects in nature: visual, structural and energetic.
Etsy | Blog | Facebook | Twitter | Pinterest | WeHeartIt | Instagram
Check out Laura's work this month at the Women's Art Network Toronto Market 707 pop-up shop until May 28, 2014 (Tues – Sat 11:30 am – 7 pm).
(above images from designsbynaturegems.etsy.com)