Michelle and I met online via Etsy and the Toronto Etsy Street Team, and we met in person last September at the Danforth East Arts Fair, where she was my neighbour. Her cards and stationary are full of fun. Check out thunderpeep designs at the upcoming Danforth East Arts Fair on September 13 & 14 at East Lynn Park, and at the end of the month at the flagship Etsy: Made in Canada (a nation-wide collection of pop-up markets) sale at the MaRS Atrium on September 27 from 10am – 4pm.
Products: I design quirky paper goodies. Everything from greeting cards to notepads to giclée prints.
Price Range: $4.00 up to $45
How did this all begin? 
I'm a Graphic Designer by profession and working on my own pieces was always a way of keeping my sanity. From there it's the same story you hear so many times, people loved what I made for them and wanted to buy some to give to their friends and then I discovered the amazing world of Etsy and online selling and it opened up so many possibilities.
About
There are 2 things I truly love in this world (well ok, maybe more than 2 but for the sake of this interview and in regards to my business I'll stick to these 2) Strange folk tales from far off lands and really dumb jokes. They're both kind of like magical escapes. I think we could all use a little bit of extra giggles in our lives, so I try to add a bit of that magic into all my pieces. Some just make you laugh, some might make you believe. Usually a new design will spark from either a story I've read, about some unusual tradition based on an old folk tale (or it gets added to my overflowing idea book!) or from a silly saying I've heard or said – I seriously think in terms of greeting cards these days. It's not uncommon for me to have a notebook with me anytime I'm with friends so I can jot down all these words and then when I have some quiet time in my nook I'll play around with the words and add in some designs until it comes to life.
When I'm thinking of new products to add to my line I try to think of things that people need. A lot of my work has a very Nordic/Scandinavian style to it and one of the key components in their design esthetic is functionality. I've recently started to add in invitations to my product line, there's a definite lack of seriously fun invitation sets out there and not everyone can afford pretty custom invites. I wanted people to have something really cool to send out to their friends and family so I've been adding blank invites for kids and adults birthdays, summer dinner parties, Thanksgiving and New Years parties (but custom designs are still available of course!)
thunderpeep has evolved recently into more of a surface design company, as I expand beyond just stationery. I've always had a love of patterns, from nature to architecture to fashion – I have kind of always seen life in patterns. As i sit down to work on new designs I'm starting to think more and more about where it can be applied.
What advice do you have for a first-time One of a Kind Show vendor?
I have 3 pieces of advice for OOAK first timers:
Enjoy the process: From the application to the booth setup to the long days. You learn so much about yourself and your business during these times. So many people get overwhelmed and forget to take it all in. It's such a fun time even in the midst of all the stress leading up to it. Even the application for the show, it's makes you take a look at your business from the outside in. And take loads of notes during the show. You learn a lot about your customer base and not to mention, how to run a successful creative business from the other vendors who've been doing the show for a few years.
Marketing: SO important. Before, during and after. Make sure you have clear and catchy branding (it's worth the investment) Every single person who steps into your space is a potential customer. Probably not that day, but maybe the next. Or maybe a month down the road. Have a great handout (either business card or postcard with a great photo of your product or catchy graphic) that makes it easy for them to remember you and be able to find you when they are ready to purchase.
Comfy shoes, healthy snacks and helpers: Seems kind of obvious but you'd be surprised how long a 12 hour day truly is when your on your feet most of the time. A couple pairs of comfy insoles inside your shoes does wonders for your feet, back and mental health. Healthy snacks and a place to hide them might seem obvious too, but you don't always have a lot of time to get out of your booth for a proper meal (unless you have really awesome helpers) and no one wants to shop in your booth if you've got a mouth full of food. THat's just gross. Something easy and tidy to eat. Helpers!!!! You get helper badges. Use them! Even if you can't afford hired help, take advantage of all your friends coming by to say Hi. Take 10 minutes to run to the bathroom, or just get outside. You may think you can do the whole show yourself, you can't. You will go kookoo.
Do you have a favourite OOAK show moment/memory to share?
I don't have just one favourite moment, each one has had it's moments. Meeting people have bought things from you online, someone saying they got one of my cards from a friend or stories from people who have bought and given. Seeing my customers come back every show to say Hi and see what's new. ALL the amazing booth buddies I've had and become friends with (and their siblings!). Being able to share my experiences with new vendors. These are all great things that I will cherish but really, my favourite moment so far was getting interviewed on Breakfast TV (way too early in the morning) and meeting Frank (I totally have a crush on that guy!) Right out of my comfort zone but I never would have had that experience without OOAK.
You can find thunderpeep designs on blogspot, Etsy, Society6, Spoonflower, Facebook, and Instagram.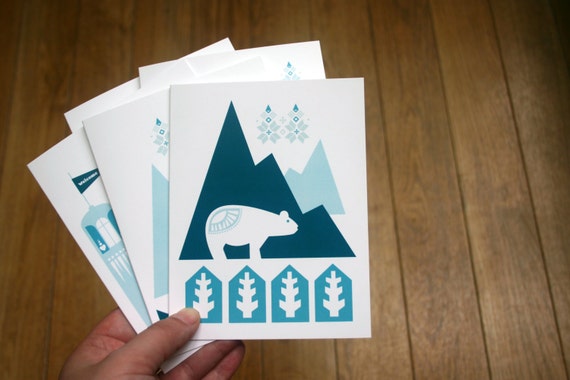 (All photos used with permission.)