Long time no write! For some of that, I was actually out of the country on my family's first ever holiday south (in fact I haven't been south myself in over 20 years!), where my husband and I visited a coffee plantation and got ourselves some green beans (we roast our own) from the source!
When I got back it was a slow start but now I'm back and in full-on creative mode. However, I've been neglecting the blog so I thought I should update you on goings-on.
First of all, I'm excited to announce that Lynn's Lids sheepy wool dryer balls, catnip balls, and tea cosies will be available in another brick and mortar shop, this time in Millbrook, Ontario, at Anchor & Co, which has its grand opening this Sunday from noon to 5pm at 30 King St. E. in Millbrook. It's also open Tuesdays-Saturdays 10am-5pm, I believe. Doesn't it look like the sweetest little shop?
Once I got back into work mode, I decided the first thing to ease myself in was to customize a French press coffee cosy for my friend Helen of County Cupboard. She choose the green and said she'd like something that looks like a compass. I looked over her company's web presence and found an image with her new logo in it (right) and thought I'd do a simplification of it:
I was also faced with a little rejection news this week (sadly I will not be a the Cabbagetown Art & Crafts Sale this September) and had to cheer myself up, so I decided to adorn an orange French press (Bodum) coffee cozy with something that would do just that: Amsterdam canal houses.
And here's a little video my 8 year old helped me make on Instagram showing you the full 360°:
And since I've also been neglecting my Etsy shop, that Amsterdam coffee cozy is up for sale in the Etsy shop, along with another Bodum cosy (click the photos to view the Etsy listings):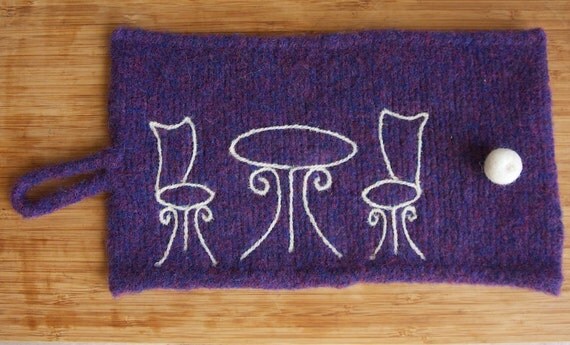 I will have to update my website to include coffee cosies as well, now, but it will have to wait a bit as we are starting some spring cleaning around here, and on Monday I am heading to a friend's farm to see sheep shearing with my boys for the first time! I'm pretty excited and hope to get a few good photos and be able to tell you about the process afterwards.
Other than that, I had a custom order for a family cottage on a tea cosy:
I've been working on reusable coffee cup sleeves. They'll keep your coffee warmer than those cardboard things, and you can use them for years! I'm thinking they may make a great teacher gift, or stocking stuffer come that time of year.
I've been enjoying the sun and above freezing temperatures around here:
And I've been sketching. Lots of sketching.
P.S. The other brick and mortar shops are the Cobalt Gallery and Clay Studio (sheepy wool dryer balls and natural wool catnip balls) and Furballs Pet Stuff (natural wool catnip balls)